Beard Liberation Front
17th August
Contact Keith Flett     07803 167266
Sarah Vine confirms Gove has a hipster beard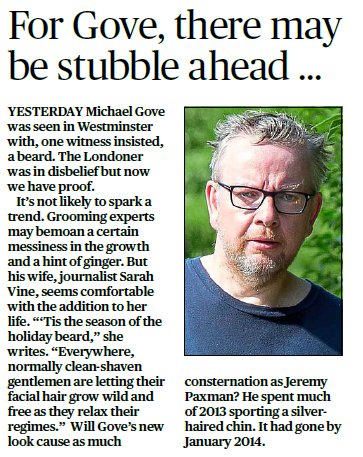 The Evening Standard report
The Beard Liberation Front, the informal network of beard wearers, has said that it will review whether or not it can support Michael Gove's new beard at a special meeting to be held in central London later on Wednesday
Gove was seen in Westminster on 16th August with a beard and his partner Sarah Vine has confirmed in her Daily Mail column (17th August)that the former Minister has indeed grown a 'hipster' beard. Pictures are yet to emerge.
In a related move another former Tory Minister Ed Vaizey has said on twitter that he cannot support Gove's new beard and his renewing his own facial follicles in response.
Gove missed out on the chance to become Tory leader and faces an uncertain political future on the backbenches.
A beard can begin the process of political re-assessment not just over policies but image as well as Al Gore found when he lost the chance to become US President and instead grew his beard.
However the campaigners have discounted suggestions that Gove has grown a Corbyn tribute beard.
BLF Organiser Keith Flett said, Michael Gove's decision to 'REXIT' ,leave his razor behind and grow a beard, is a controversial one. At the moment Gove has a hipster chin style beard, and we will be meeting later today to take a view on its acceptability