Brewdog returns to 'real ale'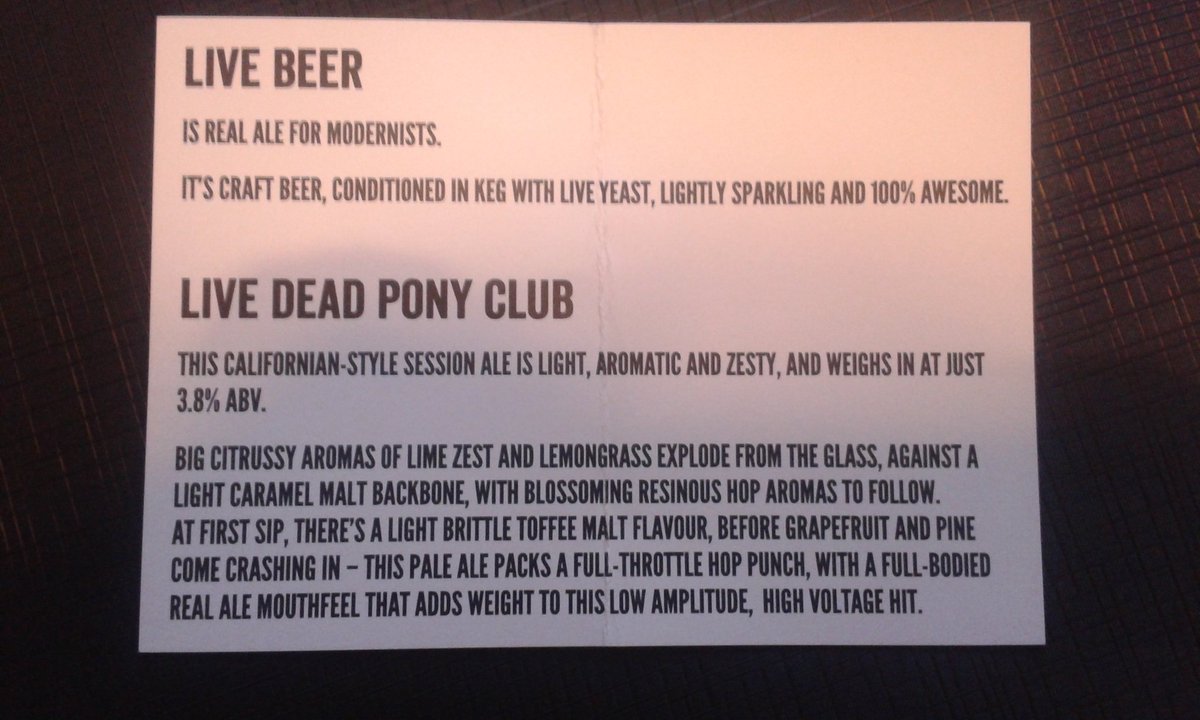 I well remember the days when Brewdog beers used to be available on cask as well as keg. I thought they were mostly fine in cask form. Brewdog argued that they could not control the quality of cask at the point of sale in the way they could keg. No doubt they had a point, but I don't actually recall having a bad pint of Brewdog from a handpump.
A lot of what Brewdog do is around hype and marketing (which I'm afraid is a part of how a market capitalist economy works). There was comment that the retreat from cask was mainly about that.
There have been rumours for a while of a return to cask at least in Brewdog bars and now this has, sort of, happened.
The details are here:
https://www.brewdog.com/lowdown/blog/live-beer
Despite having been a member of CAMRA since 1975 I'm not a dispense fetishist. I'm more interested in whether a beer tastes good (or at least interesting).
I stopped by Brewdog Camden to give the new 'real ale' Brewdog's well known pale ale Dead Pony Club a go. The price for the old keg version and the new keykeg version was the same £4.90 a pint. That seems to me a high price for a low strength beer but I'm hardly impecunious so let's move on.
I tried the real ale version first. It was hoppy and full tasting with moderate carbonation. It was colder than cask (12C John Major regulation temperature) but not as cold as keg can be. Did it have a 'real ale mouthfeel'? I have no idea. It didn't have any twigs in it. Perhaps that really means when it comes to it, could you knock it back without burping, if you wanted to. The answer I'd say is quite probably. I sipped.
I then tried the old Dead Pony Club. It was colder and had a higher carbonation and was not as a full tasting, in my view.
So on that tasting the 'live' version to me seemed better. It was also I can confirm beard friendly.
However I have a further idea. A good while ago a brewery called Watneys noting the rise of CAMRA was hitting its sales of keg only beer decided it would need to bring back the cask beer it had abandoned some while hence. The problem was it had no casks or handpumps, they'd all been scrapped.
So Watneys tweaked kegs to casks and served the beer on electric pumps.
Opinions on the beer varied but men with beards did tend to say, why don't you just cask the beer and sell it through a handpump? In the end they did.
Brewdog are far from Watneys and the 'live' beer they've launched appears to represent a genuine advance in beer production techniques (but as above, I'm no expert, I just drink the stuff).
All that being said, how about giving 'sticking the beer in casks, conditioning it and selling it on handpump' a go Brewdog?
Even if there are issues in the wider trade surely the quality could be controlled in Brewdog pubs.
But anyway, full marks to Brewdog for innovating and I'd suggest you give the 'live' Dead Pony Club a try.