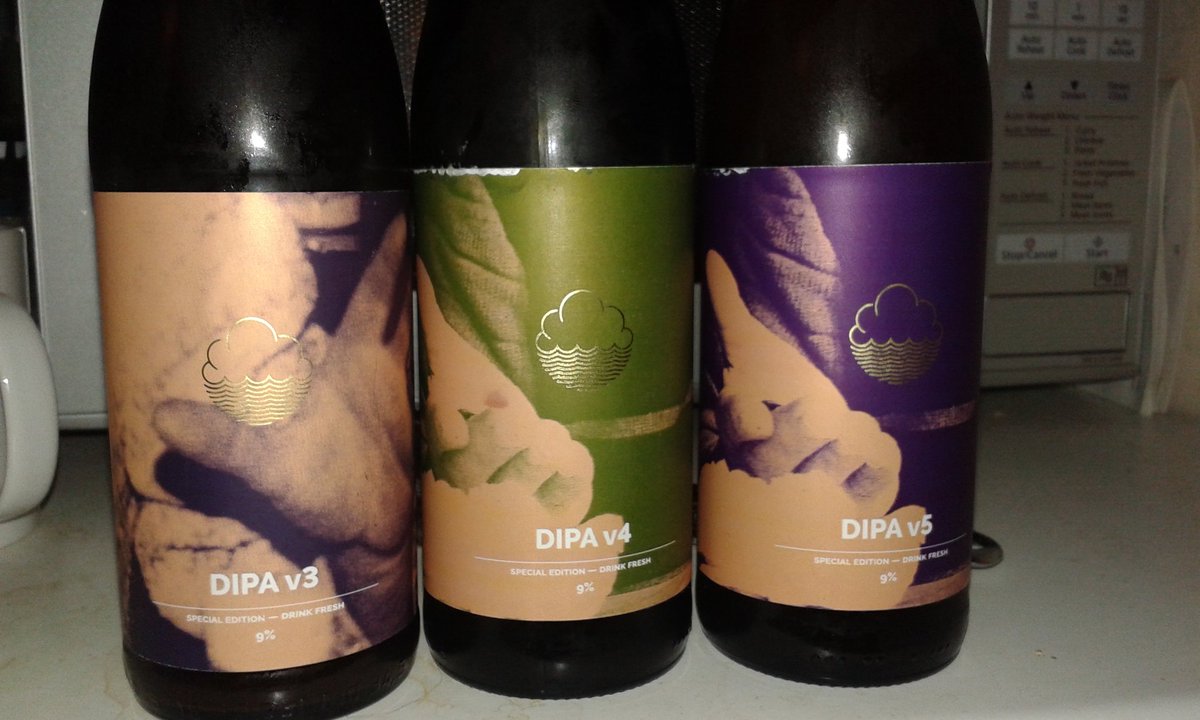 I've been consistently impressed by the beers produced by Manchester's Cloudwater Brewery (cask, keg, bottle) across a range of styles.
One of those styles is the DIPA (double IPA).
Cloudwater has produced a number of versions, the most recent at 9%. Clearly these are sipping beers in small amounts. Something to savour.
I tried (along with Megan Davies who may have had other motivations) Version 3 from earlier in 2016 and Versions 4 and 5 which are around now. Version 6 is to come.
My aim was to test the beers for beard friendliness (the criteria for this is laid out below). I did not marinate my beard on this occasion, rather the test was for how robust the beers were.
Version 3 which is (broadly) marmalade citrus is a favourite beer of this year so far.
Versions 4 and 5 on their own were a little different. Drinking them separately I preferred Version 5. That had  a little more of the citrus character of Version 3. Version 4 didnt have this but might be described as more hoppy in a sort of vegetable/cannabis plant type way (the hop and cannabis plants are related).
As suggested by Cloudwater I then mixed Versions 4 and 5 and that led to something quite similar to Version 3, though far from exactly the same.
The conclusion is that Versions 3 and 5 and a mix of 4 and 5 are robust and beard friendly. Version 4 arguably a little less so.
In short, excellent work. Try them for yourself if you get the chance
When is a beer, beard friendly?
The answer is subjective and no definitive guidance can or should be given.
There are however some guidelines developed after long practical investigation by the Beard Liberation Front Research Department.
1] Bland beers are not beard friendly. A beard is a statement of style and outlook. The bland are clean shaven preferring to avoid such 'in your face' approaches to life.
2] Brown beers [with or without twigs] have been historically beard friendly. From Marston's Pedigree to Timothy Taylor's Landlord's generations of the hirsute have been nurtured on these well- made and robust beers.
3] Beard Friendliness in beer is not a static category and is re-defined and reconfigured overtime
4] The new range of 'craft' cask and keg beers has begun to provide a new definition of beard friendly beers.
5] The new beard friendly beer is typically full flavoured [although not necessarily strong in alcohol] and can vary in style from an imperial stout to an ipa to a sour.
6] There are key tests:
a] when the beard is immersed in a pint of a beer broadly defined at [5] it invigorates the beard hairs and promotes growth.
OR
b] Drinking the beer promotes a general sense of well-being and beard friendly ambience
7] The Beard Liberation Front encourages regular trials of beers using the procedures outlined at [6]
8] If either or both of the tests noted at [6] are passed a beer may be deemed 'beard friendly'
9] Beard friendly it not a commercial benchmark or an indication of beer quality. A beer that is generally beard friendly may not be when served at a particular moment and location
10] If Nigel Farage is spotted drinking it, a beer is automatically defined as not beard friendly